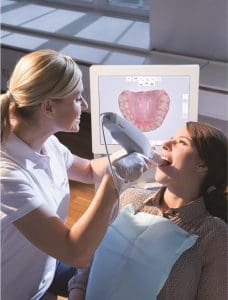 As part of our dedication to going green, Trade Winds Dental has invested in the award-winning TRIOS 3 digital impression system. It is so much better for the environment, and our patients love it!
Impressions Make Me Gag!
Dental impressions. No one likes them. They don't taste great, they are so very gooey and they often make people gag. That's a real problem to have during the traditional impression process. Why? Every movement changes the impression slightly. And when accuracy is key, such as for fixed partials, we want the most precise impressions, possible. Not easy with that chunky, gooey mouthful! In fact, The Harvard School of Dental Medicine Study, says that 89% of traditional FPD impressions have at least one detectable error!
Impressions are Bad for the Environment!
In addition to the discomfort is the fact that traditional impressions aren't exactly environmentally sound. Let's take a look at that:
Most dental practices take an average of one impression a day according to a Dental Economics article, more if they offer orthodontics.

The plastic tray used to hold impression material always ends up in the landfill. Plastic takes approximately 450 years to break down!

Impression putty is made of either Polyvinyl siloxane (PVS) or Polyether. They are exceedingly long lasting and in the landfill, that's not a good thing.

Impressions must be shipped to the laboratory. That means cardboard for the box, protective materials, and, of course, fuel used by the airplane or truck.

The gypsum models must be stored for future reference, either by the patient or by the dentist.
Who wants to do that?
Enter the Revolutionary Precision of TRIOS 3!
Our new award-winning TRIOS 3, lets us take impressions digitally. That means:
No mess

No goop

No gagging

No discomfort

No trays

No packaging

No mail
Instead, TRIOS 3 uses a hand-held wand to capture over 3000 2D images per second! Plus, it can work as an intra-oral camera and allow us to measure the shade of your own teeth for more precise restoration matching. The benefits are unparalleled and include:
Secure internet delivery to the lab – no mail to get lost, and a far smaller carbon footprint.

Digital impressions in color – this improves diagnostics and makes them easier for you to understand.

Real-time occlusion capture – lets us check your bite as we restore.

Digital models  – nothing to go in the landfill but great records to store digitally.
Our Investment in You…and the Earth
Because we don't want to compromise on your care or in the way we care for the environment, we chose the TRIOS 3. TRIOS won the Pride Institute "Best of Class" Technology Award for innovation and leadership in intra-oral scanners three years in a row and is the most accurate digital impression system on the market.
To learn more about how the TRIOS 3 can keep you more comfortable while keeping the environment safer for the future, please give us a call. We are proud of what we do for patients in Georgetown and how we are working to change the face of dentistry globally.