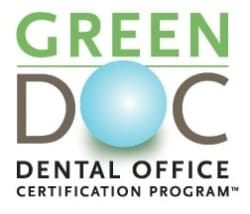 What it Means and How we Stay Committed
By now you have probably heard about the fact that Trade Winds Dental has been awarded the GreenDOC™ Gold certification by the by the Eco-Dentistry Association (EDA) for our commitment to being green. We believe this is an essential step, not only for the present but for the future of our children. After all, without earth, there would be no smiling would there?
Trade Winds Dental is the first office in Georgetown and Williamson County and one of four dental offices in Texas to achieve GreenDOC™ Gold certification. And get this: Trade Winds Dental is one of the first 100 dental practices in the world to achieve this honor!
So how does this affect you? In the best ways possible!
The Benefits of Having a Green Dentist
Are the benefits something only future generations will reap when the world isn't drowning in mercury fillings and plastic impression trays. Not at all! There are definitely benefits for our patients to enjoy right now, such as:
Healthier, low allergen office space

More stable fees over time

Incredible technology – such as goop-free digital impressions – for better accuracy and less waste

Electronic charts for less paper and more convenience

Digital X-rays for reduced radiation exposure, elimination of harsh processing chemicals and clearer images

Nicer, homier touches such as soft towels to dry your hands on instead of scratchy paper

Steam sterilization of instruments for a super deep clean

Lip balms are petroleum-free and made with vegan, organic ingredients

Lots of living, indoor plants are a major part of our interior design for improved air quality and a clean, soothing environment
Plus, we put your hygiene visit supplies in a reusable, environmentally-conscious shopping bag made of 100% post-consumer and post-industrial fibers. There are so many more benefits, but you would start getting bored before very long and stop reading! Visit us or give us a call. We'd be happy to show you around.
How Green Can We Go?
While we have always tried to be environmentally friendly, our commitment to green dentistry began in earnest during our move in 2011. First, Dr. Hennington chose an already-existing dental office and refurbished it to meet our exacting standards. That meant there were none of the environmental impacts  associated with new office construction. We also saved and refurbished our existing flooring, window treatments, phone systems, and light fixtures to reduce waste as much as possible while creating our new office space. We also made sure to paint and stain the new interior using only low VOC paints and stains for significant air quality improvement. When it was time for the actual move, we chose a moving service that provided plastic, reusable boxes for moving instead of using traditional, cardboard boxes. Of course, we updated much of our old office equipment with more innovative technology, but instead of sending the old equipment to the landfill, we donated it for reuse in areas that don't have access to more modern dental equipment or either entered it into a recycling program.
That was just the beginning. Now we continue our efforts by:
Updating our equipment to greener solutions whenever we can,

Recycling everything

Using energy saver appliances to washing our own uniforms, towels, and sterilization covers with eco-friendly products to reduce the use of harsh chemicals from commercial laundries

Using supplies that can be sterilized and re-used instead of disposables that are thrown away and added to landfills

Using  an amalgam separator to keep silver fillings containing mercury (removed from patient's mouths) from entering the community water supply
To learn more or to make suggestions about other ways we could be green, call our Georgetown TX, dental office. We are here for every smile – now and in the future!