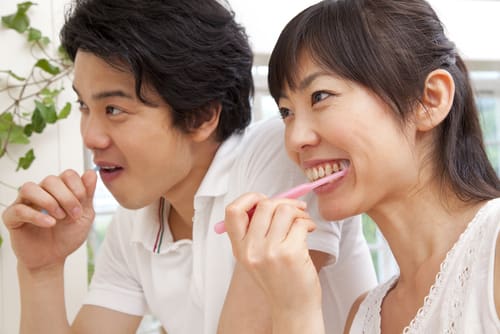 Helping Saliva Work as Your Mouth's Best Friend
You may not think much about spit… unless you see your kid doing it! But did you know that spit is there to keep your mouth healthy? It is true! Saliva is your mouth's natural defense system. It acts as a natural antioxidant.  So why are we telling you this?
Historically, dentists have focused on controlling the growth of bacteria in your mouth. But that might not be quite enough. As part of our work to offer our patients excellent dentistry while remaining natural and earth friendly, Trade Winds Dental is offering a brand-new approach to oral care – PerioScience antioxidant-infused products.
The Benefits of Antioxidants in Dentistry
Cavities continue to be a problem for both adults and children in the United States. We have discovered a way to up our cavity-fighting game – with antioxidants. PerioScience products counter oxidation, reduce inflammation, and work in tandem with our hygiene protocol to help your mouth feel better and be healthier than ever before. Their products are:
Natural. They contain powerful antioxidants, phloretin and ferulic, along with polyphenols from Green Tea plus herbs and essential oils are uniquely formulated to promote a healthy oral environment, fresh breath, and naturally moist oral tissues. They contain no alcohol, no fluoride, no sodium lauryl sulfate, and no artificial sweeteners or preservatives.
Hydrating. PerioScience hydrating products are formulated with proven moisturizers and a special selection of targeted ingredients that work together to promote moist-feeling oral tissues, healthy teeth, and fresh breath while creating a pH environment that is hostile to damage causing bacteria.
Gentle. PerioScience sensitivity products address tooth sensitivity to heat and cold with a potassium nitrate toothpaste. Sensitive products will freshen breath and soothe the mouth.
And they all promote healing and boost your own saliva's healing power!
Can I Trust PerioScience?
We always carefully vet any products we offer in our office for reliability, effectiveness, and sustainability. That's why we trust PerioScience products.
You may have heard of using antioxidants to control inflammation caused by UV light. Well, the scientist who conducted research on that topic for more than a decade now leads the PerioScience research laboratory. They conduct research and testing in major universities – a way to remain unbiased and be subjected to their rigorous standards of investigation – and their research studies on topical antioxidants have been published in peer-reviewed journals.
To learn more or to find out if PerioScience products can benefit you – and your spit – give our Georgetown dental office a call. We'd love to tell you more about all of the innovative ways we keep Texas healthier, greener, and smiling from ear to ear.