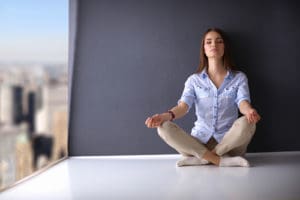 Getting out of bed in the morning can be hard. The alarm rings and you hit snooze. Then you hit it again. We have all done it. But maybe there is a way to make getting out of bed something to look forward to while also decreasing stress, and giving you an emotional, physical, and spiritual jump-start for the day – a morning ritual! "But," you may say, "I have a morning ritual. I brush my teeth, wash my face, eat a wholesome breakfast. I even go for a quick run before I shower and dress for work. "
That's a morning routine, not a morning ritual.
A ritual is a deeper level of self-care, one that focuses on preparing emotionally for the day, boosting your happiness quotient, and truly showing some love for yourself.
Five Things You Can Do Before You Get Out of Bed:
Express gratitude
Set your intentions for the day
Take five, deep, long breaths
Smile for no reason
Forgive Yourself for yesterday's mistakes
These take just a few minutes, and can get you started moving toward your own personal ritual.
The Benefits of a Morning Ritual
According to the online wellness hub The Holistic Ingredient by Amy Crawford, a personal morning ritual can:
Lift your mood, every morning.
Start the day with achievement.
Boost your focus, productivity, and happiness.
Give you control of your day.
Now isn't that a wonderful way to show yourself some love?
Planning and Incorporating Your Morning Ritual
A morning ritual doesn't have to be complicated.
Go to bed at a time that will give you enough full sleep cycles to get you rested. This handy sleep cycle calculator can help you choose a bedtime that fits perfectly with wake-up. http://sleepcalculator.com/

Consider buying or making something special to eat or drink that might tempt you out of bed and make you feel a little pampered.

While you are enjoying your organic tea or sprouted-grain waffle, try writing down you think might improve your health and wellness or make you happy. Anything can be added to your ritual time as long as it leaves you feeling refreshed, energized, and ready to face the day. Journaling? A bit of daily meditation? How about some yoga? We love the simple but effective sun salutation because it doesn't take long yet uses all of your major muscle groups. Check it out here:

http://www.yogajournal.com/category/beginners/how-to/sun-salutations/

Write down exactly what you want to incorporate in your morning ritual. A written reminder not only keeps you from forgetting your goals, it also serves as a way to make you accountable to yourself.
For more morning ritual tips,  please give our Georgetown dental office a call. The team at Trade Winds Dental is here to help you get the most out of your smile – and your life!