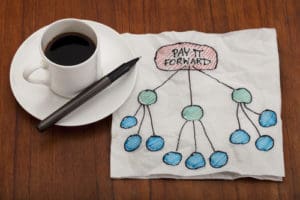 Have you ever been zipping through the drive through to get your morning cup of coffee, already stressing about the meetings and tasks to complete that day, and as you pull up to the window, you receive the pleasant surprise that the person in front of you has paid for your coffee? A total stranger just chose to do a nice thing for you, and that positive feeling makes you smile and perhaps changes your entire outlook on the day. At Trade Winds Dental, we know all about this concept and call it by it's more well known name….. Paying it Forward.
You may be thinking, what in the world would my Georgetown dental office know about paying it forward? You may be surprised to know that our team tries to perform random acts of kindness whenever possible. You might not know about it, because we aren't looking for recognition or anything in return. That's why we wanted to tell you how these little things in life can not only give you an incredible feeling of satisfaction, but also can create a ripple effect from one recipient to the next.
Take for example our toothbrush donation program. If you are replacing your toothbrush (as the ADA recommends every three months or so), bring the old one into our office for recycling. In addition to removing that plastic from landfills, we also take the time to donate $ 1 per toothbrush to Hope Alliance. It's not something that we HAVE to do, it's something small that we CAN do that makes a big impact.
Dr. Hennington and his staff also donate dentistry throughout the year to people in need right here in our community. For example, a local veteran on a reduced income who also takes care of his mother had put off dental work to the point where it affected his ability to chew properly. The team at the Georgetown dental office was more than happy to assist this man at no cost to him…. We simply asked him to pay it forward.
So the next time you're in line to buy your coffee, or maybe having lunch at a diner, consider picking up the tab for a stranger. Or spending the day volunteering at a shelter instead of another Netflix binge day. Or simply helping your neighbor out and mowing the part of the lawn that you share. You never know, this simple act of Paying it Forward could result in something life changing.
Call our Georgetown dental office today to schedule your next appointment, or to ask for suggestions to perform your own random act of kindness.