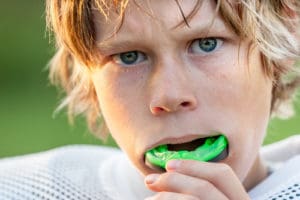 It's back to school time! Signal the groaning of children and the celebration of parents everywhere!
Getting back into the routine of getting ready for school is vital, no matter if you're a child, a teenager, or a college student.  Everyone has to jump out of bed and get ready to take on the day's classes, exams, and after school activities. Be sure that each morning starts with a thorough brushing and flossing of your teeth. Not only will it remove plaque and that 'morning mouth' feeling, it will also help to wake you up! Besides, no one wants to go to class with morning breath.
Once classes have started, consider storing a travel toothbrush and a small box of dental floss (or floss picks) in a plastic bag inside your backpack. Because that bit of lettuce from your lunchtime salad doesn't need to be a part of your smile all afternoon long. Or worse, that garlic smell that seems to linger on your breath from that yummy shrimp pasta. Taking a moment to brush and/or floss will keep you feeling fresh, and more confident, as you continue your busy day.
Many students have sports practice after school. Don't forget your sports mouthguard! Your Georgetown dentist will tell you that more than 5 million teeth are knocked out every year, with up to 39% of them being from sports injuries. Of those, 80% of dental injuries involve the top front teeth. No matter what age you are, no one wants to deal with the pain (and cost!) of damaging your smile when it can so easily be prevented. Ask your Trade Winds Dental team about sports mouthguards so that you can be sure you have the proper type for your activity level.
Going back to school might not always make you want to smile. But with properly cared for teeth, and your Georgetown dental team here to support you, those confident pearly whites should take you to the head of the class.