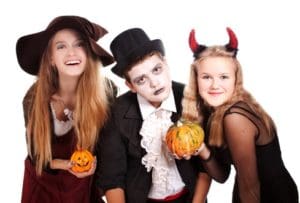 It won't come as a shock to you that Halloween is typically not your Georgetown dentist's favorite holiday. Yes, of course we love the dressing up and bobbing for apples, but we definitely aren't crazy about all that candy and the impact it can have on your smile. While we know that tons of sweet treats will be available to you and your children all month long, we'd like to give you some advice to keep all that candy from harming your teeth.
1 – Go For the Chocolate
We know, it sounds weird, but if you have one type of treat to choose from in your trick or treat basket, choose chocolate. Why? Chocolate dissolves more easily and doesn't hang around on your teeth like sticky or hard candies. That makes it less likely to cause decay.
2 – Avoid the Ooeys and the Gooeys
Sticky, chewy candies like toffees and caramels can cling to your teeth, allowing bacteria to thrive. They've also been know to pull out fillings and loosen other dental restorations from time to time, especially hard candies that you have to bite into. It's better to pass on these.
3 – Consider a Healthier Alternative
If you're hosting a Halloween party this year, consider having some non-candy alternatives on hand like small bags of pretzels, sliced up apples, or dippable veggies. You can even get creative with your snacks by finding easy recipes on Pinterest, or try these spooky treats from Delish.com
Finally, remember that a little candy goes a long way. If you or your children are going to indulge in sweet treats, try to dole them out in moderation or as rewards for getting things done around the house. This will keep your Georgetown dental team from having a fright when you come for your next dental cleaning!
Have a Spooktacular Halloween from your Trade Winds Dental team!