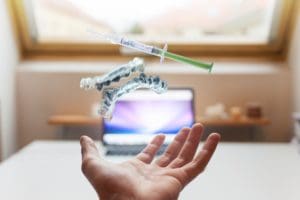 We don't normally toot our own horn when it comes to technology. But in talking with several new patients who came from practices that seemed archaic (their word) by comparison, we thought we might take a moment to share how our Georgetown dental office stays on the leading edge of technology, both for your comfort and convenience, and also to help the environment.
No Goopy Impressions
Most of us have not so fond memories of having to get a dental impression made – that weird goopy stuff on the tray that you have to keep ever so still in your mouth and try not to gag on? And if you move? OH, big trouble – that means you need to do it all over again to get the impression correct.
That scenario is a thing of the past in our office. We use an intraoral digital scanner to create full color, 3D impressions of your teeth using a tool that looks a bit like a big pen. It takes over 3,000 images per second for the most accurate imagery possible, which means we can get the exact specifications of your mouth and teeth (even the color!) before we create a restoration.
Same Day Crowns
Speaking of restorations, we use CAD/CAM technology to mill porcelain crowns right here in our office, which means you can fix a broken tooth with a new crown in one single visit. That sure beats having to wait for a lab to send something back that might not be correct, taking up time and affecting your confidence!
Safe Removal of Amalgam
You'll hear us talk a lot about both the health and environmental hazards of amalgam (metal) fillings. A lot of practices remove metal fillings and allow those little bits of toxic metal to go right down the sink into the water supply. Not us! We use an amalgam separator to keep every minute particle of amalgam from getting into the wastewater supply and sewer system.
And Yes, We've Got Lasers
No, we're not playing laser-tag in the office…. although that does sound like a lot of fun. Your Georgetown dentist uses a tool that combines laser technology and the power of water to perform a number of dental procedures without anesthetics or drills. It's super precise, so it means removing less amounts of healthy tooth when fixing a cavity, and the continuous spray of water keeps the tooth hydrated, which reduces heat and possible pain.
We strive to keep on the very cutting edge of technology at our Georgetown dental office so that our patients can receive the safest, most precise  and efficient treatments possible, while still holding to our ideals of protecting Mother Earth. Do you have questions about our tech? Ask us to show you how our tools work during your next appointment!