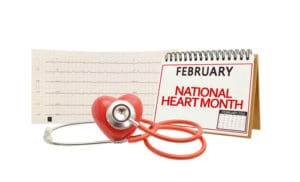 We all know that it's important to brush and floss regularly in order to protect our smiles from decay and cavities. But did you know that taking care of your oral health can also help protect your heart too? To celebrate American Heart Month, our dental office in Georgetown wants to share some information about just how regular dental care can help your heart.
Oral Health & Heart Health Connection
Keeping your oral health in tip-top shape isn't just about the mouth itself. In fact, many whole-body concerns including diabetes, kidney disease, certain types of cancer, and heart disease have been linked to oral health, and more specifically, gum health. For the purpose of this blog, we're going to talk about heart disease.
According to the Academy of General Dentistry (AGD), gum disease has a direct connection to an increased risk for heart disease. But how can something that originates in the mouth find its way down to the heart? It's pretty easy actually. When there's a buildup of bacteria in the gums (gum disease) it has a direct route to the bloodstream. As the bacteria infiltrate the blood supply they can cause a surge in the amount of C-reactive protein (CRP) present. This is when the problems start. Too much CRP can cause:
Blood clots
Stroke
Inflamed arteries
Heart attack
Recognize the Signs of Gum Disease
Gum disease is a serious health problem that requires a diagnosis from your dentist in Georgetown. If caught early, gum disease can be treated successfully before it has a chance to put the rest of your body at risk. Being able to recognize the signs of gum disease quickly can make all the difference. Some common signs of gum disease include:
Swollen, red, or tender gums
Bleeding while brushing or flossing
Consistently bad breath
Chronic bad taste in the mouth
Loose teeth
Gums that appear to be pulling away from the teeth
Any of these symptoms may be cause for concern, so if you notice any of these, you should schedule an appointment with your dentist as soon as possible.
The best way to protect yourself from gum disease and the whole-body concerns that can go with it is to practice good oral hygiene habits and see your Georgetown dentist regularly. Dental cleanings and checkups every six months can help remove plaque and bacteria that your toothbrush alone can't touch, which will reduce your risk of gum disease.
If it's been longer than six months since your last dental visit, we welcome you to call our Georgetown dental office to schedule an appointment today.