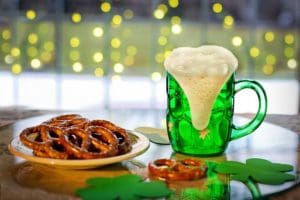 If you've known our Georgetown dental team for more than a hot second, you know that we're constantly talking about being green. Taking care of the environment, while taking care of others, is the hallmark of our practice. But today, we'd like to talk to you about something ELSE that is green… and frothy… and is only celebrated once a year in March. Even if you're not of Irish descent, there will be plenty of green beer available to you at any number of St. Patrick's Day celebrations. But can those shamrock-colored suds take a toll on your teeth? Let's find out…
It's Not Just the Food Coloring
Having a pint or two (responsibly of course) of green beer can dye your teeth pretty quickly, depending on the strength of the food-grade dyes used in the making of the festive brew. This hue can easily be removed by using a slightly more abrasive whitening toothpaste, or if needed, contacting our Georgetown dental office for a cleaning. But there's something you should know – drinking beer in general, even when it's not springy green, can turn your teeth yellow or even slightly brown. Darker beers in particular like stouts can make your teeth take on a dingy appearance over time. If your teeth aren't as pearly white as the cliffs of Dover, call us to schedule an in-office whitening treatment.
Beer Can Also Damage Enamel
If you think about all the different things in a pint of beer, you might forget that there's actually a lot of acid in that bubbly brew. Acid, of course, can eat away at your tooth enamel and lead to sensitivity and decay. And, like we just mentioned, your teeth can become discolored when the layers of enamel are worn away and the inner part of your tooth, which is actually darker, starts to peek through.
So Protect Your Health
We're certainly not saying that you shouldn't have a small glass of once-a-year beer this St. Patrick's Day weekend, as long as you have it responsibly and in moderation. But if you do, remember these tips:
Drink a glass of water after every alcoholic beverage
Be sure to brush twice and floss once a day (like you already do, right?)
Don't forget to schedule and keep your regular cleaning appointments with our office
If you're due for an appointment, or perhaps your grin could use a bit of extra attention, give us a call to schedule a dental checkup today.
Always welcoming patients from Georgetown and the surrounding areas.