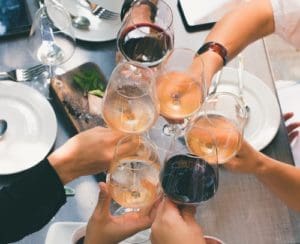 With the 12th Annual Georgetown Wine and Music Festival coming up at the end of September, the staff of our Georgetown dental office is excited to try the new varietals from local wineries while we stroll around the square. We get a lot of questions about how wine and it's effect on your oral health….. Are red wines good for your heart, but bad for your teeth? Or is it the other way around? And what about white wines? Do they turn your teeth yellow? Are organics better? So many questions could make your head spin more than the wine. We thought we'd address the basics here in our latest blog so that you don't have to worry before the big festival.
Does Red Wine Stain Teeth More than White?
This is probably the most common question that we get about wine and your oral health. The truth is, all wine is acidic and has the potential to stain your teeth. We frankly just notice it more with red – the slightly purple smile after a few glasses of Merlot. The acid levels in white wine can still break down tooth enamel and leave the teeth looking yellow, as well as leaving the teeth susceptible to decay. 
What Should We Do To Avoid Staining?
Believe it or not, your Georgetown dental team is going to tell you that you should not brush your teeth immediately after drinking a glass of wine. Why? If you brush too soon, you're actually spreading those wine acids around your mouth exposing more tooth surfaces to those acids and potentially damaging them. Instead, swish your mouth with a glass of water after drinking wine – no matter what variety. The water will help to neutralize those acids and wash them off of tooth surfaces. 
Are Organics Any Better?
As much as we love organic wines that are free of chemical pesticides and other compounds that are bad for the planet, organic wines still have the same levels of acids in them, and have the potential to discolor or damage tooth enamel just like the ones full of extra chemicals that speed up the fermentation process. 
What If My Teeth Are Already Stained?
If you're concerned that your teeth are discolored, either because of wine or just the effects of time, give our office a call to schedule a teeth whitening treatment. We can also discuss other cosmetic dentistry solutions if your teeth require more than just whitening to get back to their best.